TriFold UpCart Lift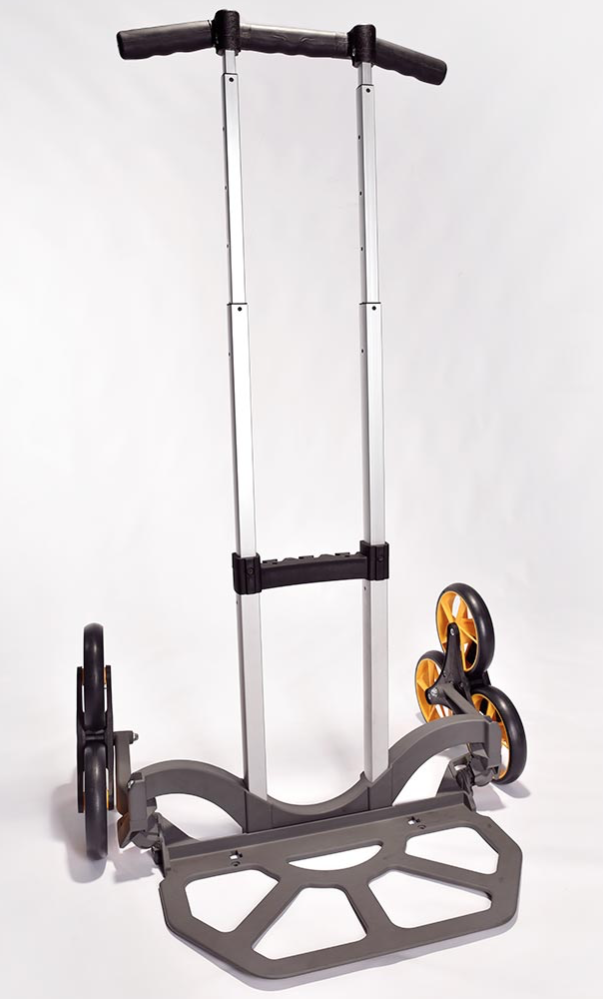 TriFold LLC, the award-winning maker of the innovative and successful UpCart Original has announced the launch of its latest product, the UpCart Lift.
Categorized as a "hand truck", the UpCart Lift is the first of its kind to offer an all-terrain, stair climbing chassis that hauls up to 200 pounds and folds flat to less than 5 inches for easy and convenient storage.
With its lightweight design, weighing only 11.35 pounds, and the ability to carry 18 times its own weight, the UpCart Lift is durable and boasts a reinforced aluminum body with dual-coated rubber tires.
The 50-inch adjustable height handle and large easy-to-hold grips make it even more user friendly. In fact, when tested by an independent third party, UpCart products required 64% less effort than traditional 2-wheel carts.
"We believe this hand truck is a game changer for us, and we are very excited to debut this at the 2017 National Hardware Show. We have always strived to improve on our ideas, concepts and products. The UpCart Lift is a perfect example of the company's continued innovation based on consumer needs for better functionality", said Co-Founder and CEO Michael Reznik.
"The focus on greater versatility and broader applications for our customers was critical with this hand truck as it will provide ease of use and a functionality never before seen in this previously stagnant marketplace. We are excited to make the UpCart Lift a part of our legacy."
The UpCart Lift addresses the need for a hand truck that helps reduce the effort of bringing large, heavy and bulky items up the stairs or over uneven surfaces. UpCart products use patented technology that allow their carts to "walk" over stairs and obstacles with ease and fold completely flat, making UpCart the first to combine the utility of an all-terrain stair climbing chassis with the convenience of a traditional folding cart.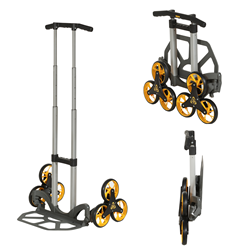 "Based on the response from thousands of satisfied customers, we knew we had a solid and successful design from our UpCart Original. It was a natural progression of our company to bring this new hand truck to consumers", noted Leonid Khodor, Co-Founder and President of TriFold LLC.
"Now we are able to provide value and reduce efforts for every demographic. Whether it is a senior citizen looking for help with groceries with the Original UpCart or a construction worker hauling cement blocks with our UpCart Lift, there is no demographic that would not have a need or value from our product line."
TriFold LLC has been producing UpCart products since 2015 when it launched the UpCart Original at the 2015 National Hardware Show in Las Vegas. The design and functionality of the folding six-wheeled cart caught much attention at the show and they were awarded the "Most Innovative Concept" award.
In 2016, TriFold was awarded the "Retailers Choice Award" when it was selected by a panel of independent home improvement retailers from thousands of products on display at the show.
To learn more about the UpCart Lift or any of the product lines, visit www.UpCart.com.
For additional information, contact Jessica Reznik at 614-441-7199 or email Jessica.reznik@trifoldllc.com.