Other Products: VIBCO Stik-It Vibrator Mounts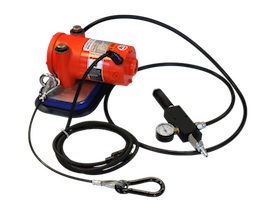 VIBCO Vibrators announces a new line of Stik-It concrete vibrator mounts that use a powerful venturi air system to create positive suction that tightly secures the vibrator to the concrete form for exceptional performance and vibration transfer. Using the VIBCO Stik-It mount eliminates the need to purchase and in stall permanent vibrator brackets.
VIBCO STK906WALL with SVRFS-4000AL Vibrator
The VIBCO Stik-It is ideal for use on most traditional concrete forming systems and is the first external vibrator solution that can be effectively used on lightweight concrete forming systems including Insulated Concrete Forms (ICF), cardboard, styrofoam or polyethylene.
The VIBCO Stik-It can even be mounted to curved surfaces such as column and footing forms.
The VIBCO Stik-It Concrete Vibrator mount can be used effectively by a single operator. It is portable, versatile and as easy to use as a traditional poker-style internal concrete vibrator, but has the enhanced consolidation and finish quality of an external concrete form vibrator - especially when there is heavy rebar. Concrete contractors can save time and get better quality by using a VIBCO Vibrator on a Stik-It mount whenever internal vibration is difficult or impossible.
The VIBCO STKIT906WALL and STKIT906AMWALL are specially designed for use on concrete wall systems. Both the standard and Air-Miser versions pair with the VIBCO SVRFS-4000AL – the most popular concrete form vibrator. The STKIT906WALL and SVRFS-4000AL vibrator combination retails for around $2,000.
VIBCO STK906 with US-450TAL Vibrator and SC-2 safety cable
The VIBCO STKIT906 and US-450TAL are an ideal solution for Concrete Countertop and Ornamental Concrete producers because the Stik-It easily moves from one table to another without the need to re-bolt to permanently mounted brackets. The VIBCO STKIT906 and US-450TAL combination retails for around $1,300.
VIBCO's Stik-It vibrator mounts require 80 PSI and draw just 8 CFM. The vibrator is independently powered from the mounting system, and so is compatible with pneumatic, electric, hydraulic and DC-powered vibrators for maximum flexibility.
VIBCO Stik-It Mounts come in three (3) sizes to accommodate more than 40 different VIBCO Vibrator models.
Phone: 401-539-2392; Email: vibrators@vibco.com; Web: www.vibco.com