Gas Engine Equipment: Wacker Neuson RD 27 ride-on roller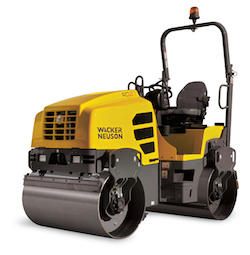 Wacker Neuson's new RD 27 ride-on roller has been redesigned to be a class-leading 2.5 ton double drum vibratory roller. The new RD 27 includes a variety of new features that enhance the operating experience, improves performance and service accessibility.
The RD 27 was designed with the operator in mind. Ease of operation and visibility were at the forefront of the design. It starts with a patented multi-functional lever. One lever does it all.
This unique directional control lever contains buttons for all vibration options, water on/off, and even the horn. This allows the operator to control all of the common functions of the machine without removing his hands from the control.
A new tapered front frame creates excellent visibility to the front drum. The improved visibility helps the operator align the drum during compaction and monitor water coverage.
The view from the ergonomically designed operator's station provides an excellent perspective of the jobsite as well as a quick glance at the easy-to-read dashboard and control panel that provides all the information the operator needs. The display layout includes a lighted pictorial of everything from water and fuel level, to high and low vibration, front and rear vibration, water on/off.
Wacker Neuson's RD 27 provides the ultimate in compaction versatility.
The RD 27 line is offered in two drum widths. The RD 27-100 comes with a 39.4-inch (1000mm) drum width and the RD 27-120 has a 47.2-inch (1200 mm) drum width.
Each model offers single or dual drum vibration and a choice of high or low compaction force to fit a variety of conditions and applications. Unlike competitive units that alter the engine speed to adjust the centrifugal force, Wacker Neuson's RD 27 design uses the hydraulics to adjust high/low force, allowing the machine to maintain peak horsepower in either setting.
Additional features on the new RD 27 include tool free access to the water pump, water filter and water bars allowing for convenient daily maintenance. No tools are needed to flip up the bumpers for easy access to tie down points, water bars and lights. All engine maintenance points are easily accessible from one side of the roller.
The RD 27 ride-on rollers are powered by a 37.5-hp Kubota diesel engine.
The RD 27-100 has an operating weight of 5,470 lbs. and produces a low/high total centrifugal force of 15,589/16,860 lbs.
Weighing in at 5,950 lbs, the RD 27-120 produces a 15,285/20,232 lbs. of low/high centrifugal force.
The RD 27 rollers are compact, highly maneuverable and with their dual settings the units are ideal for the compaction of base and finish asphalt layers as well as granular subbase materials.