Drill Bits: Klein Tools Power Tool Accessories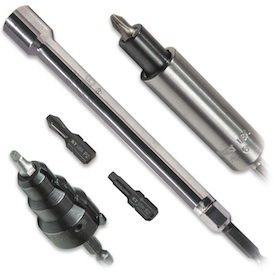 Klein Tools announces a brand new line of accessories for power tools. The product line includes Multi-Bit Power Drivers, Power Nut Drivers, Power Conduit Reamers and Power Driver Bits for power tools.
Made in the USA, these accessories are designed and constructed to handle the high RPMs and force of even the most aggressive power tools, including impact drivers.
Klein Tools' Multi-Bit Power Drivers combine up to six screwdriver and nut driver functions in one power tool adapter. The solid body, with a ¼" hex quick connect, easily attaches to any power drill. The drivers also allow for quick changes between functions. Now, everything needed is in the chuck of the drill, at all times.
Klein Tools' Power Nut Drivers are available in several sizes. These hollow shaft magnetic nut drivers are designed for long bolts, studs or threaded rod jobs. End users can perform numerous functions which previously could only be completed with the use of hand tools. Each model is designed to withstand the high torque applied by power tools. Available in both 2", 5" and 10" hollow shaft lengths, nut running will now take less time.
Klein Tools' Power Conduit Reamer reams ½", ¾" and 1" conduit and installs fittings in a fraction of the time. This product is designed to speed up high volume conduit installations and reduce wrist fatigue. The reamer is designed to fit into power drill chucks and quick release adapters. It includes a precision-engineered blade and offers optional replacement blades and bits.
Klein Tools' Power Driver Bits are precision-machined for better fit, more torque and less wear. The bits are custom heat-treated and finished to the same superior standards that Klein puts into each screwdriver blade. This proprietary process creates the longest power driver life in the industry. Klein designed these bits for optimal performance in termination and fastening applications commonly found on job sites. The Power Driver Bits are available in various sizes and lengths in Phillips, slotted or square-recess tips.