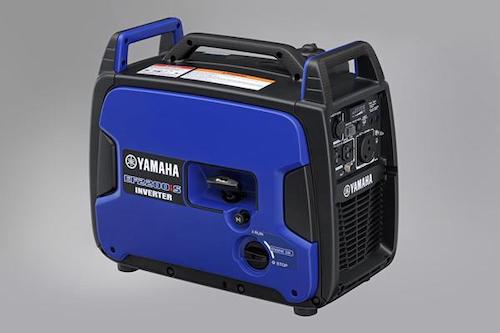 Yamaha Motor Corp., USA, introduces the all-new EF2200iS to its line of portable inverter generators. The value-packed inverter offers high power and bold features in a reliable, quiet and compact package.
The EF2200iS is powered by Yamaha's high-output MZ80 OHV, air-cooled, single cylinder 4-stroke engine to deliver a maximum 2,200 watts of AC output, with a maximum AC current of 18.3 amps at 120 volts. The MZ80 offers greater fuel efficiency, running a continuous 10.5 hours at a 1⁄4 rated load. Its efficiency combined with Yamaha Quiet Technology reduces noise levels to 57-65 dBA at a 1⁄4 rated load, allowing people to have a conversation without realizing it is running.
The EF2200iS was built with RV camping in mind and needed to accommodate a wide variety of uses in a powerful, but easy-to-transport package," said Kevin Reed, Yamaha Outdoor Power Products Division Senior Manager. "We have outfitted the EF2200iS with a variety of new features as well as proven Yamaha technology to deliver a powerful, quiet, and lightweight generator to the modern camper."
Moving the EF2200iS around a campsite or worksite is simple thanks to its compact size, 55-pound weight and new tri-handle design – designed for two people to move the unit with ease. An all-new LED illuminated control panel makes it easy to check the status of the generator both day and night, and starting and stopping the unit is simple with the new Yamaha Smart Dial.
The EF2200iS is also equipped with Yamaha's proven generator technology including Smart Throttle, a load sensing control that allows greater fuel efficiency and noise reduction. Yamaha's Twin Tech parallel function allows two units to connect for greater power, and an Overload Power Reset enables the device to restore power in the event of an overload without shutting it down.
Yamaha's EF2200iS also comes standard with a 3-year factory warranty and offers the same high quality engineering and technology that goes into all of Yamaha's motorized vehicles.
To learn more about the all-new EF2200iS, along with the rest of Yamaha's generators and power products, visit www.yamahamotorsports.com/powerproducts