Makinex 9 and 16kw Generators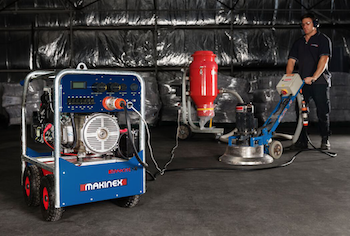 Makinex has released a compact range of generators with outstanding power to weight ratio. These generators will be available in 9kw, and 16kw models and allow the user to combine three-phase and single-phase outlets!
The Makinex Generator Range is a robust, powerful and reliable solution for providing power to equipment and tools, floor grinding, welders and brick saws, air compressors and a wide range of applications.
They are suitable for use in rental yards, construction sites, and rural areas, and offer a compact lightweight option when moving the Generators around on building sites as well as on and off vehicles.
Our generator alternators provide 11 percent more power from the same engine due to the RFL permanent magnet alternator - allowing a cleaner sign wave, which then achieves 92 percent efficiency.
The Makinex Generators will power everything you need! It has the ability to start single and three phase motors simultaneously. There are no electronics in the alternator, which means they are reliable and have a longer life. They are all easy to maneuver around small sites due to the trolley frame and push along handles, which makes them ideal for any renovating job.
Find out more about our Generator Range www.makinex.com or call 1-855-Makinex.