Other Products: Flexaust Uni-Loop HT Industrial Vacuum Hose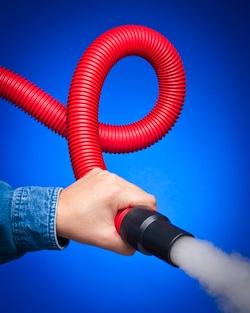 A new copolymer hose that handles higher temperatures than traditional plastic hose and is highly flexible for use in carpet cleaning machines and extraction equipment is being introduced by Flexaust of Warsaw, Indiana.
Flexaust Uni-Loop HT is a lightweight TPR hose reinforced with an integral polyethylene helix that operates over a -40°F to 225°F range and offers good chemical resistance.
Highly flexible and crush resistant, this hose handles full vacuum, has a smooth interior to assure efficient fluid flow, and is ideally suited for use with permanent and portable equipment.
Available in 1.25", 1.5", and 2" I.D. sizes in standard 50 ft. lengths, Flexaust Uni-Loop HT can be supplied plain or with cuffs and is red in color. Custom OEM colors are offered. The 1.5" size weighs 0.18 lbs./ft. and has a 2.5" bend radius. Applications include carpet and vacuum cleaners, RV duct, pet grooming equipment, drainage, and conduit.
Flexaust Uni-Loop HT is priced from $0.70 per ft., depending upon size and quantity. Evaluation samples are available upon request.
For more information contact Sabrina France, Marketing Coordinator, 800-343-0428; email: sabrina@flexaust.com