Measuring: Zircon MultiScanner i520 and ElectriScanner v5




The MultiScanner i520 OneStep quickly and easily locates the edges and center of wood and metal studs and joists behind walls, floors, and ceilings.
It also locates metal as well as live AC electrical wiring. A 4-mode switch makes it easy to change functions, while the ultra-bright display screen, SpotLite Pointing System, and audio tone all indicate the location of the target. The signal strength indicator helps to distinguish between shallow and deep targets.
Stud Scan mode locates the edges and center of wood or metal studs up to 3/4 inch (19 mm) deep
DeepScan mode doubles the scanning depth to 1 1/2 inches (38 mm)
An ultra-bright LCD screen indicates direction, edges and center of studs
AC Scan finds and traces live, unshielded electrical wiring up to 2 inches deep
Metal mode detects non-ferrous metal, such as copper pipes, up to 1 1/2 inches (38 mm) deep, and ferrous metal, such as rebar, up to 3 inches (76 mm) deep
WireWarning detection indicates the presence of live, unshielded electrical wire up to 2 inches (51 mm) deep in stud and metal scanning modes
ACT (Auto Correcting Technology) automatically corrects common user errors, such as when scanning begins over a stud
The ElectriScanner v5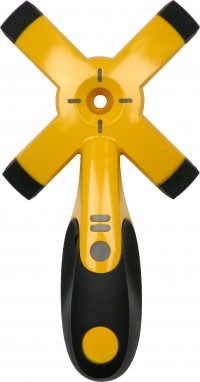 The ElectriScanner v5 is a live wire locator that allows the user to avoid guesswork and clearly identify where a live wire is located behind a wall. It uses a series of digital signal processors in conjunction with multi-gain sensors in order to scan and identify the location and path of live AC wires. Additionally, the tool has two scanning modes, four outer sensors that constantly scan to locate e-field noise around the tool, and it will scan for any voltage or cycle within your environment. The ElectriScanner v5 works like no other tool available today and it has a look that is unique and unlike anything else in the market place.
Detects live unshielded wires
Scans up to 4 in. deep
Audio and LED alerts indicate when electricity is detected
Automatically compensates for 110/220v, 50-60Hz
New patent-pending pinch grip design provides a secure
hold in either hand at any angle
Rubberized non-slip grip for additional comfort and precision
Ships in Hard case