Measuring: Starrett 679 Inspection Scope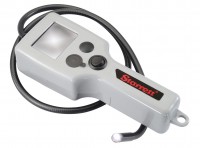 The L. S. Starrett 679 Inspection Scope is ideal for remote inspection of areas inaccessible to the naked eye such as machining operations, A/C systems and interior structures of walls.
Applications include viewing critical but hard-to-see areas during machining operations, inspection of internal parts of engines and machinery, A/C systems, and interior structures of walls.
The Inspection Scope features a user-friendly, auto-focus digital video camera with three light intensity settings. For superior imaging illumination, the Inspection Scope offers a full color image sensor and dual solid state LEDs. A 2.5" (63.5mm) full color LCD screen displays live video from the digital camera and offers resolution of 320 x 240 pixels.
The 679 Series Inspection Scope features a .394" (10mm) diameter shaft and is offered in two models with cable lengths of either 3' (914.4mm) or 6' (1,829mm) for its flexible, water resistant shaft with a high quality metal tip. The new Starrett scope is manufactured in the U.S.A and offers a one year warranty.
Two useful accessories are included with the Inspection Scope – a mirror that allows viewing 90º to the axis of the scope's shaft and a magnet that can pick up approximately ¼ lb. (0.113 kg). The accessories and the Inspection Scope are secured in a form-fitted, rugged protective case.