Measuring: AGL GradeLight 3000 rotating pipe laser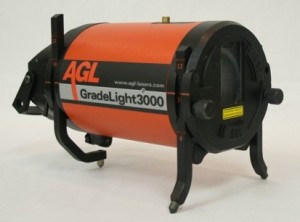 The new GradeLight 3000 from AGL is the shortest pipe laser available. Its 10.5-inch (265mm) length makes it ideal for fitting tight inverts and small pipe jacking pits.
The GL3000 will self-level over its wide +40% to -10% grade range, with a total compensation of +45%to -15%.
The New GL3000 will also compensate up to 6° in its cross axis. This allows the user to place the laser in the pipe and not have to worry with rough leveling the laser.
It can be powered by its Li-Ion battery pack, alkaline batteries, or from a 12V DC source which all come standard in the GL3000 packages.
For strength, the housing components are aluminum die casts and extrusions. The inner mechanism also has die cast parts, besides its durable construction, the GL3000 is similar to past GradeLight models by having the broadest range of set-up accessories.
The new AGL pipe laser has several exclusive features: it incorporates a vertical rotating laser beam that one can use for manual alignment of the laser beam or with the optional AutoTarget you simply press the alignment button and the laser beam will automatically align itself. Ultimately this allows the end user to virtually align any application where key alignment is necessary.
Additionally one set of slide legs is included to cover multiple pipe sizes and a standard target with a unique design is also included. The target panel is mounted at the front of the base, not in the center, allowing the user to view it easier at the front of the pipe. The target also has a magnetic base for conveniently attaching to trench box sidewalls.
Another unique feature of the GL3000 is the Grade display is color coded (green for positive grades, red for negative) to reduce setup errors.
AGL invented the first pipe laser over 40 years ago and continues to manufacture lasers for underground, site preparation, and general construction at its United States factory in Arkansas. AGL Construction Lasers & Machine Control Systems, 2202 Redmond Rd., Jacksonville, AR, phone (800) 643-9696, fax (501) 982-0880, www.agl-lasers.com.