Measurement: Starrett 798 Electronic Caliper Series with IP67 Protection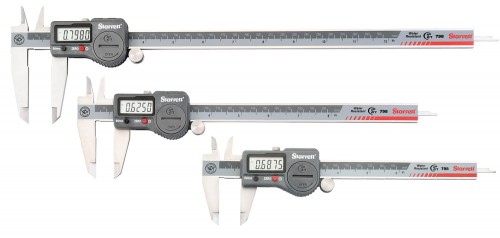 L. S. Starrett's new 798 Electronic Slide Caliper Series provide an IP67 level of protection against coolant, water, dirt and dust.
The 798 Series joins Starrett's extensive line of electronic, dial and vernier slide calipers, offering the precision and reliability that is synonymous with Starrett.
798 Calipers feature an extra-large LCD with .310" (7.9mm) characters. Its standard RS232 output port works with DataSure Wireless Data Collection System as well as cable-based data collection products.
The 798's IP67 protection is a particularly useful feature for the shop floor environment. According to IEC60529, IP67 stands for a "6" protection against ingress of dust and particles and a "7" protection against submersion in water under standardized conditions of pressure for 30 minutes.
798 Electronic Calipers offer several additional user-friendly features including zero at any position, instant inch/millimeter conversion, manual on/off with auto-off after 30 minutes without loss of position upon reactivation and a CR2032 battery with more than 1 year of life under normal use.
As with all Starrett tools, the 798 Series offers exceptional precision. They meet DIN862 Linear Accuracy and have a .0005" (0.010mm) resolution. A fine adjustment and slide lock further ensures precision measurements.
798 Electronic Calipers are made of hardened, stainless steel and include a heavy-duty bar and slide measuring 0.138" (3.5mm) thick. They are available in three sizes – 0-6" (0-150mm), 0-8" (0-(200mm), and 0-12" (300mm). The 6" caliper has an outside jaw depth of 1-1/2" (38mm) and inside jaw depth of 5/8" (16mm). The 8" model has an outside jaw depth of 1-7/8" (47.6mm) and inside jaw depth of 3/4" (196mm), and the 12" outside jaw depth is 2-1/2" (63.5mm) and inside jaw depth of 3/4" (19mm).