Trend Routing 8-foot Hinge Jig for Entry Doors
New Hinge Jig Features Simple Design and Industrial Function.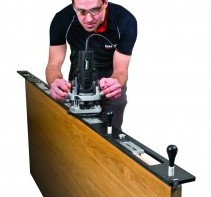 Trend Routing Technology introduces a new hinge jig for 8-foot doors that employs all of the benefits of their standard Trend Hinge Jig.
"My customers have been waiting a long time for this!" stated Michael Palley, Trend salesman for the New York metropolitan region. "Door installers love the unique and simple design of the Trend hinge jig. It is so much easier to use than the competitor's products, but we were limited by the fact that our product would not work on 8' interior, entry and fire doors. Now, we have the capacity to utilize our hinge jigs for virtually all of the contractors and cabinetmakers needs, when it comes to hanging wooden doors."
The Trend hinge jig is manufactured out of heavy duty phenolic. It is simple to assemble as it contains: three easy to assemble phenolic parts and four adjustable hinge apertures for doors that are 8' in length.
The set also includes a Tungsten Carbide tipped 15/32" straight bit with 1/4" shank, four bradawls, a T-Handle hex key, euro style and screw-on guide bushings and full instructions neatly packaged in a shoulder sling carrying case.
The Trend 8-foot Hinge Jig accommodates hinges from 2-3/4" to 5-1/2" in length and 3/8" to 1-3/8" in width and it is simple to affix the jig to the door utilizing the bradawls supplied. The sale price on the Trend part #H/JIG/8FT is $275.20.
For a complete door hanging solution, the Trend 8-foot Hinge jig is designed to be used in conjunction with the Trend Door Stand and Trend Door Clamp.