Precision Brand Introduces Metric Shims for Shoulder Screws & Die Buttons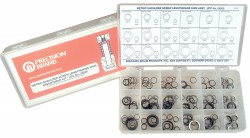 Precision Brand Products, Inc. has added METRIC Lengthening, Shortening, and Die Button Shims to its line of toolroom maintenance products. Made from a 302 full hard stainless steel, these shims are used for adjusting the height of metric shoulder screws, stripper bolts, and die buttons.
Lengthening Shims fit over stripper screw threads and under the shoulder shank, lengthening the stripper screw.
Shortening Shims fit around the shoulder screw shank and under the screw head, shortening the shoulder screw.
Die Button Shims extend the life of sharpened die buttons by adjusting their height.
Save time and money over hand punching custom shims. Shims fit 6mm to 20mm screw and button sizes and are available in thicknesses from 0.125mm to 0.20mm.