August/September 2014 print edition of Contractor Supply magazine
The following selected stories appeared in the August/September 2014 issue of Contractor Supply magazine.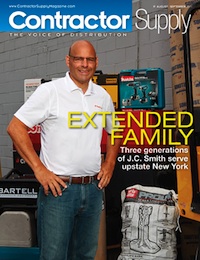 Cover Story: J.C. Smith
Three generations of J.C. Smith serve upstate New York
STAFDA News: August/September 2014
Business Briefs: ITW Buildex Sammys
Sammys anchor solutions are making the grade in many fields
Distribution Consultant: Jason Bader
Know Your Place! The distributor's place in — and value to — the supply chain
Managing Crisis: Ruth Crocker
How to listen and respond to personal tragedy
Effective Feedback: Barry Banther
Seven online ideas to embrace now
Communication Skills: Ted Gorski
Understanding and adapting to different communication styles
Plus: Industry Updates on Corded Electric Tools, Wood and Metal Blades, Dust Collection Systems, Generators, Fall Protection and much more!