August/September 2015 print edition of Contractor Supply magazine
The following selected stories appeared in the August/September 2015 issue of Contractor Supply magazine.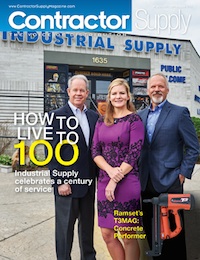 Cover Story: Industrial Supply Company
IS demonstrates what it takes to live to 100, while getting stronger every day.
STAFDA News: August/September 2015
Business Briefs: ITW Ramset T3MAG
Ramset's T3MAG system makes a powerful statement in the field.
Succession Consultant: Jay Heilbrunn
You sold your company — what's next?
Inventory Consultant: Dick Friedman
Dead inventory — don't liquidate it!
Security Consultant: Matt Tomlinson
Don't be the hackers' next "Target."
Plus this issue's Industry Updates.
Click the links below for a PDF of each story.