Dec 2012 - Jan 2013 print edition of Contractor Supply magazine
The following selected stories appeared in the Dec 2012 - Jan 2013 issue of Contractor Supply magazine.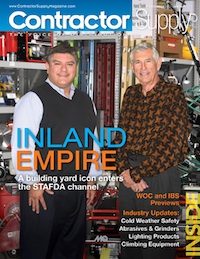 Cover Story: Inland Empire
Southern California building materials icon Ken Thompson enters the STAFDA Channel with a massive support organization at his disposal.
Online Consultant: Bob DeStefano
Give Your Website a Lead Generation Checkup
Acquisitions Consultant: Jay Hielbrunn
Financing Distributor Acquisitions
Operations Consultant: Brent Grover
Tool Repair: A Labor of love?
Plus industry updates on Abrasives, Grinders, Cold Weather Safety, Lighting Products, Ladders and much more!