June/July 2013 print edition of Contractor Supply magazine
The following selected stories appeared in the June/July 2013 issue of Contractor Supply magazine.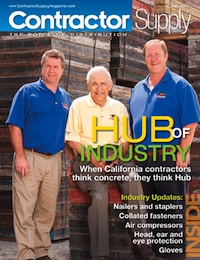 Cover Story: Hub of Industry
When California contractors think concrete, they think Hub.
STAFDA News: June/July 2013
Shows: National Hardware Show 2013
With more photos and interviews!
KG Sims: Pneumatic Nailer Maintenance
Case Studies: Starborn Plugs into Perfection
Distribution Consultant: Jason Bader
Are you a broken field runner?
Operations Consultant: Herb Shields
Is it time for you to reconsider reshoring?
Information Consultant: David Panitch
Big Data: The next big thing
Plus: Industry Updates on Nailers & Staplers, Collated Fasteners, Air Compressors, Gloves, Head, Ear and Eye Protection and much more!