The April/May 2012 Contractor Supply is Here!
Our largest regular issue to date features a load of extra articles and a special guest consultant story you won't want to miss.
---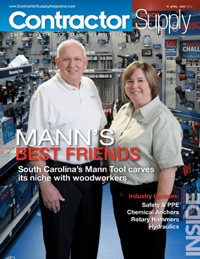 This issue's features include:
Cover Story: Mann's Best Friends
South Carolina's Mann Tool carves its niche with woodworkers.
STAFDA News April/May 2012:
STAFDA's Orlando General Session Speakers Announced — Condoleezza Rice to Keynote.
Sealants: Expanding your sales with foam
Safety: Safe and Sound
The outlook: partly cloudy with a chance of rain.
Cashflow Consultant: Abe WalkingBear: When Salespeople Become Bread Men, part 2
Inventory Consultant: Jon Schreibfeder: Cycle Counting, Part 2
Distribution Consultant: Jason Bader: The Safe Warehouse
Guest Consultant: M. Jay Hielbrunn: The Value of Excess and Obsolete Inventory
Plus industry updates on Hydraulics, Safety equipment, Anchors, Rotary hammers and much more!
Get Contractor Supply delivered to your office. Click here to subsribe!
Qualified industry professionals can subscribe for free!