Other Products: ABB SU 200 M miniature circuit breaker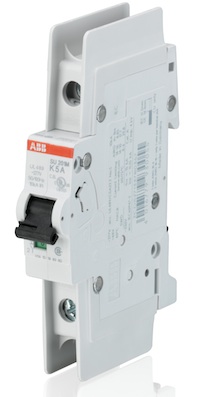 The new SU 200 M miniature circuit breaker (MCB) from ABB, the innovator of MCB technology since 1923, offers an extended rating of 40 amps at 277Y/480 volts AC to protect larger loads, a dual AC/DC rating to reduce the number of SKUs required for inventory and a more durable housing to help prevent damage during shipping and handling.
"The SU 200 M MCB responds to our customers' demands for higher amperage ratings and combined AC and DC ratings in one device," said Steve Eggert, product marketing specialist for MCBs at ABB. "These innovations make the SU 200 M MCB a truly next-generation technology for our line of MCBs that has set the industry standard."
The SU 200 M MCB, part of ABB's System pro M compact MCBs, offers extended AC and DC ratings up to 40 amps at 480Y/277 volts AC (C and Z trip curves), the highest amperage level available in the industry. The DC ratings are 48 volts for single-pole and 96 volts for multi-pole applications. The dual AC and DC ratings allow for a reduction in inventory.
SU 200 M MCBs have a reference temperature at 40 degrees Celsius (104 degrees Fahrenheit), in accordance with Underwriters Laboratories (UL) and the Canadian Standards Association (CSA), for use in enclosures, panelboards and other warm-environment applications.
The SU 200 M MCB combines the ratings of three products into one for UL 489 protection in branch circuits, which also enables inventory reduction by requiring fewer stock-keeping units (SKUs). It is also fully compatible with existing UL 489 System pro M compact® accessories, including auxiliary/signal contacts, shunt trips and busbars, which further reduces inventory and eliminates the need to update bills of materials.
The SU 200 M MCB offers a housing made of a halogen-free thermoplastic that resists damage and breakage in transit, and makes the entire SU 200 M MCB recyclable. It also features laser-printed markings that are durable and easy to decipher for fast and lasting identification of approvals and product attributes, including number of poles, trip curve and amperage.
The SU 200 M MCB is compatible with all current UL 489 accessories. For greater safety, the SU 200 M MCB features a real contact position indicator in red and green that is directly connected to the moving contact. Patented twin terminals with captive screws also provide greater safety and flexibility.
For more information, please visit http://new.abb.com/low-voltage