Other Products: Revco FR Pipe Wrap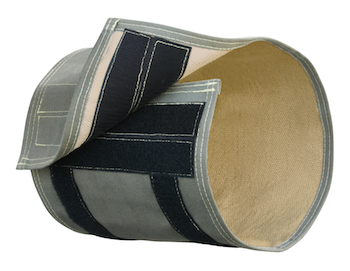 Revco Industries is pleased to announce their new AP1010-OD flame-resistant pipe wrap. Useful in oil and gas pipeline and general pipeline construction, the pipe wrap was developed to aid controlled cooling for weld crack prevention.
The 18 oz. fiberglass inner layer helps regulate pipe weld cooling temperature, while the durable FR canvas duck outer shell protects against abrasion. Kevlar stitching helps withstand sparks and abrasion as well.
This product also features an FR hook and loop closure with 2" overlap to ensure proper fit. The overlap design enables each wrap to fit 2 or more pipe sizes.
Available in 5 separate SKUs to fit pipes ranging from 6" to 36" in diameter, each wrap is clearly marked with sizing on the outside for efficient identification.
Pipe wraps may also be considered in the welding maintenance of piping in plants and facilities.