K-Sun/Epson LABELWORKS PX LW-PX700 industrial label maker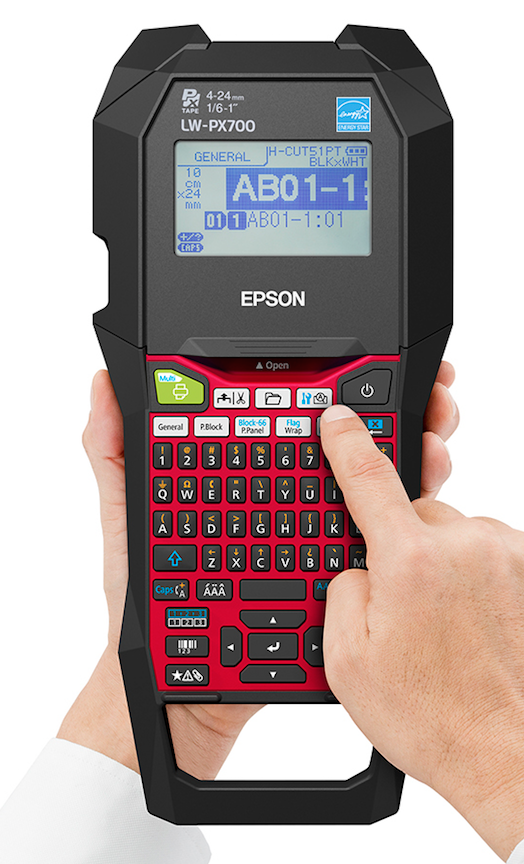 K-Sun Corp. introduces the Epson LABELWORKS PX LW-PX700 industrial label maker for creating durable, custom and compliant labels, wire markers and more up to 1" wide. Exclusive features of the LW-PX700 save time, effort and money by creating a lower total cost of ownership:
Auto Tape Rewind reduces lead margins to 4 mm by retracting material into the cartridge before the first label prints, which translates to more cost savings per print and less waste.
The Mixed-Length hot key lets users create multiple uniform and variable-length labels on the same strip with a half-cut between each label for easy removal and application, eliminating multiple lead margins to significantly save tape.
The Pick-and-Print function conveniently prints, cuts and holds a single label until it is removed. The function resumes for the next label in the series, saving time by eliminating the need to continuously type and print labels.
Lifetime Warranty is an assurance of Epson LABELWORKS PX's performance.
The rugged LW-PX700 label printer, engineered to meet MIL-STD 810 "drop" test specifications for the toughest environments, can be used to organize tool cribs, identify storage bins, label inventory racks, make safety labels, mark cables and wires, tag assets and create nine resident barcodes or 15 using Label Editor Professional software plus import images and label files to print on the go.
With applications-specific hot keys such as Punch Block, Patch Panel, Block 66, Self-Lam Overwrap and more, the LW-PX700 label printer offers extraordinary flexibility. Powerful, easy-to-use Label Editor Professional software allows users to import and print large batch files from Excel or other software with an available API, as well as import custom images and logos.
Software functions also include alphanumeric sequencing and auto-repeat. Plus, users have automatic access to new label templates as they are added through the software's cloud-based label catalog.
The LW-PX700 has a unique a built-in handle, making it easy to use anywhere. Magnet attachments allow hands-free operation to keep the printer within reach to free up hands and get the job done. A built-in memory lets users create, import and store up to 100 label designs. High speed, 180-dpi printing results in highly visible and detailed auto-cut individual and half-cut continuous labels. The printer is RoHS compliant and Energy Star certified, and cartridges can be recycled through K-Sun.
The LW-PX700 uses LABELWORKS PX supplies -- more than 118 supplies include heat shrink tube, magnetic tape, glow-in-the-dark, self-lamination wire/cable wrap, strong adhesive, reflective tapes and more. LABELWORKS PX supplies have more material per cartridge and are designed to diversify and simplify supply selection for industrial applications in the facility or field.
For more information contact K-Sun at 1-800-622-6312, info@ksun.com, or www.ksun.com.