Lubes & Chemicals: AMSOIL Spray Grease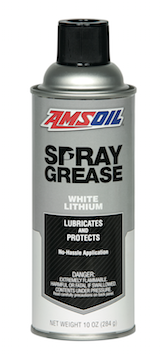 AMSOIL INC. introduces AMSOIL Spray Grease, designed to effectively reduce friction and wear while keeping components running clean and trouble-free for outstanding performance and long life.
Its quick, convenient spray enables users to grease hard-to-reach spaces while reducing the amount of mess.
AMSOIL Spray Grease may be used on hinges, latches, overhead door tracks, nuts/bolts, and any other pivot point or external moving part.
It adheres to metal surfaces for long-lasting performance and protects against wear and corrosion all while lubricating moving parts for smooth and squeak-free operation.
AMSOIL Spray Grease is available for purchase individually or by the case.