Lubes & Chemicals: Chemme.Co Inside-Out Concrete Remover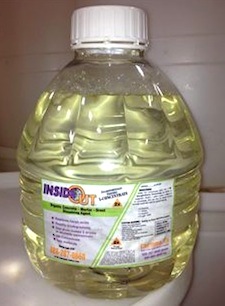 Dissolve and remove even the most stubborn aged concrete and cement build-up with "INSIDE-OUT" 2X heavy-duty Concrete Dissolving Agent, new from Chemme.Co.
INSIDE-OUT is free of hydrochloric, muriatic, citric, sulfuric, hydrofluoric, phosphoric acids, caustics and abrasives. This environmentally friendly X-Concentrate is formulated to safely and efficiently remove hardened dried cured concrete from mixer trucks, concrete equipment and similar surfaces without harm.
"INSIDE-OUT" 2X Heavy Duty Concrete Dissolving Agent is an X-Concentrate that can be used straight without worry. It's 2X strength molecule boosts its effectiveness 50 times and is designed to be cut in ½.
Once cut in ½ it can then be diluted up to 4:1, producing an extremely cost effective product that also saves on shipping cost. "INSIDE-OUT" is an amber liquid that removes concrete without scrubbing. It is easily applied by Chemme.Co's Mystic foam applicator, Big "O" sprayer, brush, or mop. Once applied, it penetrates, working from the inside-out.
"INSIDE-OUT" 2X reverses concrete into a soft liquid paste. Hose or pressure wash with clean water for final removal. The organic ionic compound is readily biodegradable, 100% per OECD guidelines. It meets ASTM standard G-31-72 and D.O.T. Non-Regulated per 49 CFR 173.154 (d) (1), Non-Corrosive.
"INSIDE-OUT" removes rust, road film, dirt, grease, oil, and is still able to effectively dissolve Portland cements, Non-Portland cements, concrete, mortar, grout and stucco. It is safe on composite drums, metals, chrome, polished aluminum, paint, plastic, rubber, wiring and glass.
"INSIDE-OUT" can be used from bumper to bumper with ease. Gloves are not required, but Chemme.Co always recommends wearing eye protection with any cleaning product.
It is available in 5-gallon pails, 15-, 30-, 35-, 55- and 60-gallon drums, 275 and 330 gallon tote tanks and tanker trucks. Chemme.Co stresses that there is no other concrete dissolver like "INSIDE-OUT's" Organic Ionic Compound. The product is produced in four strength versions: 1X, 2X, 3X, and 4X strength molecule.