Drill Bits: Amana Carbide Tipped Countersink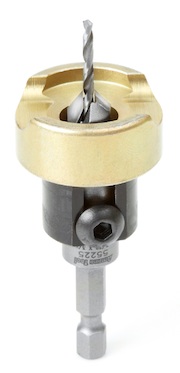 New carbide-tipped tool enables users to drill a pilot hole and tapered countersink in one step in materials including hardwood, plywood, decking material, solid surface and softwoods
Amana Tool today announced immediate availability of its carbide-tipped countersink with non-marring adjustable ball bearing depth stop. The new tool enables woodworkers, furniture makers, cabinet makers and deck builders to create pilot holes and varied-depth countersinks in a variety of materials without causing burnout or other marks.
Amana's countersinks are the only ones in the industry to feature carbide tips, which provide longer-lasting performance, smoother, cleaner cuts and no tear out in comparison to traditional steel countersinks.
With Amana's carbide-tipped countersink with adjustable ball bearing depth stop, woodworkers can drill a pilot hole and tapered countersink in one step to help guide screws during project assembly. Users can adjust the depth of both the pilot hole and countersink so that the resulting opening is either flush with the surface or recessed. The resulting countersinks can be shallow to accommodate a screw only or deeper to allow for insertion of a plug.
The countersink also features an opening to allow for chip evacuation in materials including hardwood, plywood, decking material, solid surface, and softwoods. Each cutting edge is manufactured from an Amana-exclusive carbide grade designed to deliver the highest quality of cut, maximum cutting efficiency prolonged tool life.
Amana's countersink with non-marring adjustable depth stop (#55225) starts at $37.13 and is designed for use in drill presses, handheld drills and boring machines. For more information, including a list of authorized dealers, visit www.amanatool.com.