Drill Bits: Starborn Smart-Bit
Deck Screw Depth Setter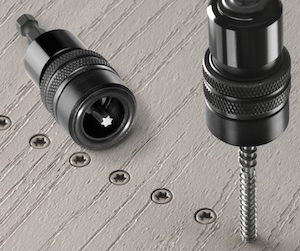 The new SMART-BIT Deck Screw Depth Setter was developed by Starborn Industries to deliver fast, clean and uniform fastening results every time. The new adjustable tool, which works equally well with Starborn fasteners and other fastening products, is ideal for ensuring screws are set to the desired depth below the work surface in decking, drywall and general building applications.
The SMART-BIT Deck Screw Depth Setter features an Auto-Stop mechanism that automatically disengages the driver bit and stops the screw from driving further once the desired depth is reached, without stripping the screw recess.
The tool also features a free spinning stop collar and rubber O-ring to protect the work surface from damage and marking. In addition, the Depth Setter can be adjusted for use with many different screw types and applications. Once the screw depth is set on the tool, and locked in place, the Depth Setter produces perfectly consistent results throughout the installation.
The Depth Setter works with both Phillips and Torx bits and is the perfect accessory for Starborn's Cap-Tor, Deckfast Metal and Deckfast Epoxy fasteners. Each SMART-BIT Deck Screw Depth Setter comes with one T-20 bit in the tool and four additional replacement bits: two T-20 bits, one T-25 and one #2 PH.
For more information, call 1-800-596-7747 or visit the website.