Drill Bits: PFERD PLAST Cut TC Burs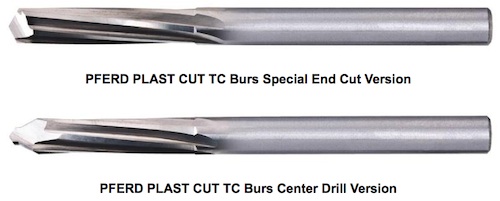 PFERD has developed a line of innovative new PLAST Cut TC Burs specially designed for working on less hard glass and carbon fibre reinforced duroplastics (GRP and CFRP ≤ 40% fibre content). PFERD offers two cylindrical-shaped versions: PLAST Cut TC burs with Special End Cut, for use with CNC machines and robots, and PLAST Cut TC Burs with a Center Drill for manual use.
The special geometry of the new PLAST Cut allows for safe milling on concave or convex surfaces. Distinguished by a particularly smooth and quiet operation, PLAST Cut TC burs are suitable for trimming, contour milling, deburring, and production of cut-outs. The special tooth geometry allows high feed speed rates with very low cutting forces.
The combination of end cut or center drill allows drilling and milling work to be carried out in one work step. The straight cut helps to minimize delamination and fraying of the workpiece.
For more information and a free data sheet detailing all specifications, operating guidelines, applications and ordering instructions, email solutions@pferdusa.com or visit www.pferdusa.com/plast.