Drill Bits: Seco CX1 and CX2 PCD Drills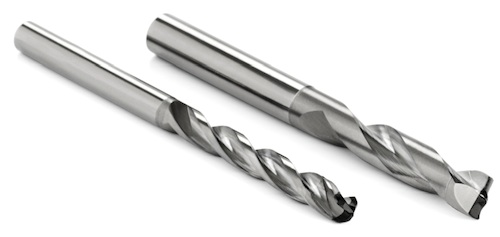 Seco introduces CX1 and CX2 polycrystalline diamond (PCD) drills for composite holemaking. The new diamond-tip technology eliminates issues with uncut fibers or delamination in composite machining, and has allowed the company to successfully develop the industry's first PCD three-flute geometry (CX1) for composite drilling.
Designed to offer the sharpest and strongest cutting edges currently available, the new CX1 and CX2 PCD drills use solid PCD tips. These tips can be much sharper than PCD-coated drills as the coating, when applied, wraps around the cutting edge and creates a dulling effect. Additional benefits of the new solid PCD tipped drills include high cutting speeds, long tool life, low friction, superior thermal conductivity, multiple re-sharpening capacity and high process reliability.
For effectively drilling through "plain" composite materials, the third flute on the CX1 provides high levels of stability in the hole as well as decreases vibrations and improves roundness. Also, the dome-shaped tip of the CX1 applies a double-angle geometry that reduces uncut fibers and delamination in composite-only applications. Grinding these highly complex types of geometries was previously impossible using conventional brazed or similar PCD techniques.
Seco developed the CX2's flat geometry drill point for the machining of stacked composite materials that incorporate layers of aluminum, titanium or stainless steel. With a PCD cap and drill point angle of 180-degrees, the CX2 provides efficient chip breaking and evacuation. This reduces the chance of metal chips damaging the hole when transitioning between layers of metal and composites and, as a result, keeps the surface finish of the composite intact.
Both the CX1 and CX2 series include a mix of dimensions for holes that range in size from 0.125" to 0.375". Chamfers can also be incorporated into the drill designs to further increase application flexibility.