Drill Bits: Greenlee E-Z BORE Self-Feed Wood Boring Bits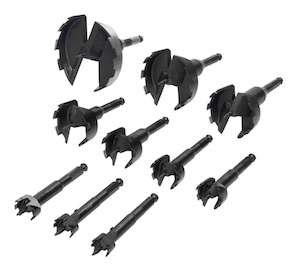 Greenlee's new and redesigned E-Z BORE Self-Feed Wood Boring Bits make conduit or pipe sized holes up to 4 times faster than standard bi-metal hole saws, plus there's no difficult slug to remove.
"We designed E-Z BORE bits to help electricians, plumbers, and general contractors make clean, conduit-size holes in many different types of construction lumber, including hardwood, softwood, laminated veneer, and pressure-treated woods," said Tim Beed, Senior Product Manager. "The two-blade design resists clogging, and the outer spur teeth help prevent splintering and blowouts – providing fast, smooth holes."
All E-Z BORE bits feature carbon alloy cutting edges that can be re-sharpened for increased tool life. The replaceable screw-point also helps pull the bit through wood with less effort.
All E-Z BORE bits also feature a 7/16-inch hex shank that fits 1/2-inch drill chuck. A 5-1/2-inch Bit Extension is also available for cutting through thick woods.
Greenlee E-Z BORE bits are available in thirteen sizes from 1" to 4-5/8" (for installing 1/2" to 4" conduit and pipe). A seven-piece Contractor Kit is also available.