Power Nailers & Staplers: Omer 12.50 18 Gauge Bradder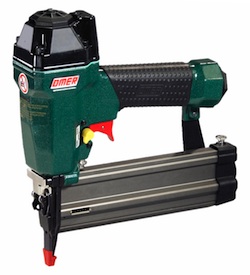 With a reputation well earned through decades of impeccable performance, OMER bradders and pinners are now considered by many woodworkers and contractors to be the world's finest.
The Omer model 12.50 18-gauge (up to 2" Long) bradder is lightweight, extremely durable and drives brads from 5/8 to 2 inches in length. The model 12.50 is ideal for furniture, doors and windows beading, cabinet and drawer assembling, boat construction, skirting board, panel and frame assembly, upholstered and trim panels and decorative trim.
It has a capacity of 110 brads and weighs 2.98 pounds.
Like all Omer tools, the model 12.50 is made in the Omer S.p.A. Italian factories where, for 44 years, a combination of old world craftsmanship and state of the art manufacturing techniques have yielded the longest lasting line-up of bradders - pinners - staplers - nailers and specialty tools and fasteners in the industry.
Three generations of Omer tool owners pass their tools down through the family, like heirloom tools. Discover the quality and rugged performance that cadres of Omer tool and fastener users have long known.