Bartell Global Innovatech Terminator Infinity Floor Scraper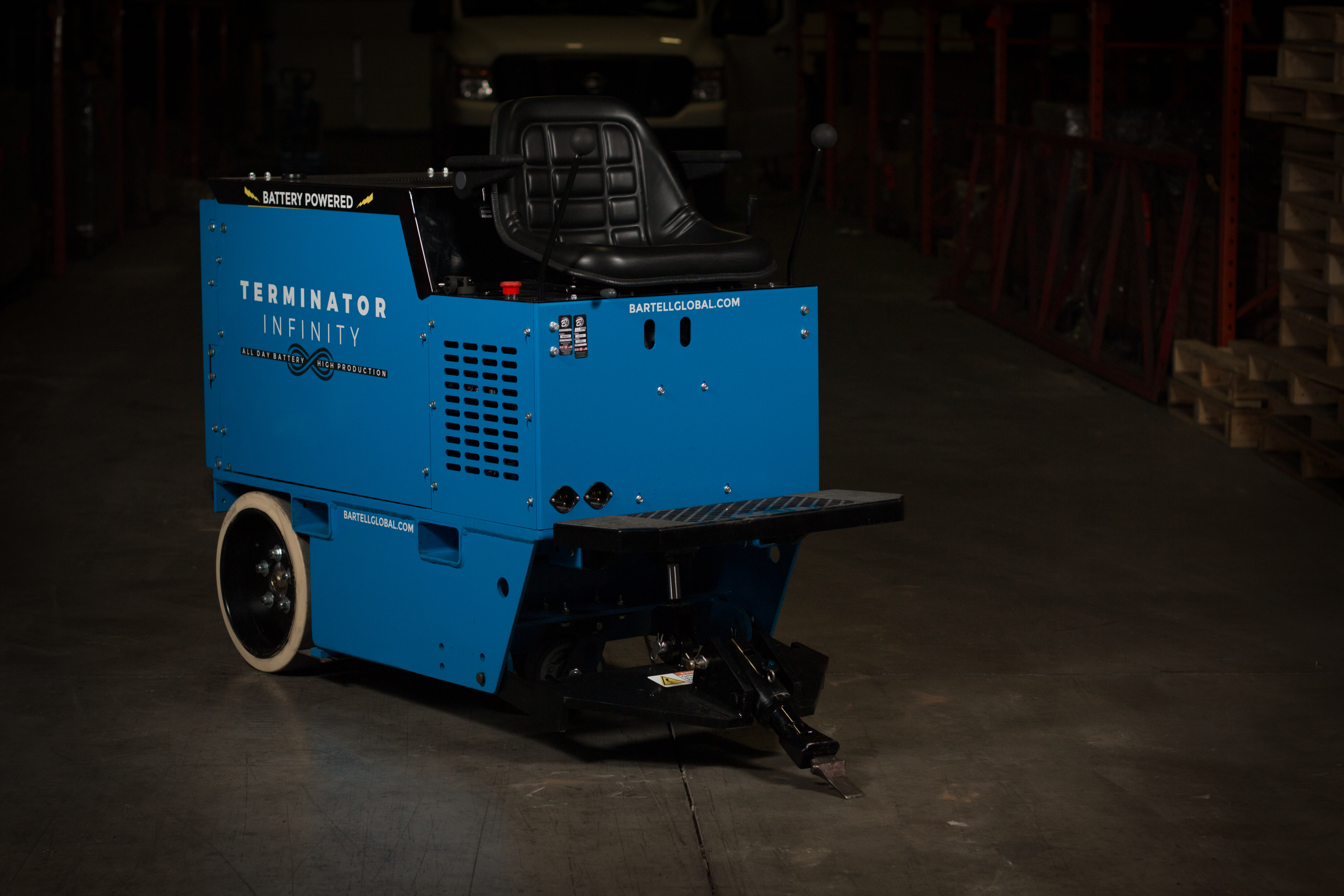 Bartell Global is excited to introduce the Terminator Infinity; the newest addition to the Innovatech Terminator Ride-On Floor Scraper line.
Innovatech has been the pioneering brand of Ride-On Floor Scrapers for over 20 years, proudly serving the Flooring, Rental, Demolition and Construction markets with machines known worldwide for the best performance, durability and quality.
With the same innovative design as the existing Terminator line, and the addition of features such as, all-day battery, dual on-board 110V integrated charging system, higher AGM maintenance free battery capacity, and increased travel speed, The Terminator Infinity was created to be an undeniable money making, quality investment for both contractors and dealers.
The Terminator Infinity's all-day battery runs 8-12 hours. Its onboard 110V on board charging system charges 30% faster so you will never have to worry about running out of power. It has all the power and capability needed to remove VCT, vinyl, carpet, and many other flooring materials in a compact and easy to maneuver design.
Benefits of the Terminator Infinity
AGM Maintenance Free Battery Pack
Safety Seat Switch
Zero Emissions
Hour meter and Battery level indicator
Fully Enclosed Design: Protects Hydraulics and Major components
Fits through any standard doorway
Adjustable Wheel scraper blades
Integrated fork lift channels
Non – Marking Tires
Common Quick Change Swivel Tooling Attachment Holder
Optional Extra Weight Packages Available
Parking brake
Production Rates
Carpet: Up to 3000 sq. ft. / hour
VCT/VAT: Up to 3000 sq. ft. / hour
Sheet Vinyl: Up to 3000 sq. ft. / hour
Glue Down Hardwood: Up to 1800 sq. ft. / hour
Elastomeric Coatings: Up to 1800 sq. ft. / hour
Ceramic Tile: Up to 1200 sq. ft. / hour
Click here for a video of the unit at work.
Click here to go to the Terminator Infinity web page.