Gas Engine Equipment: Bartell Morrison model 1813SS walk behind saw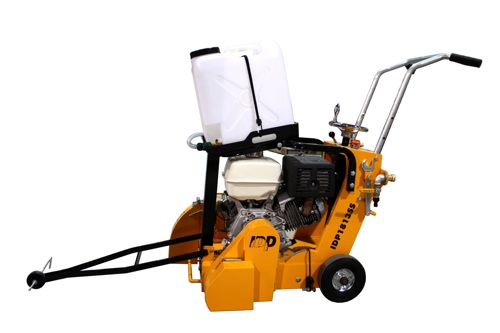 Bartell Morrison is proud to introduce the latest walk behind saw from their IDP division. This is our first in a series of heavy duty saws that in most cases are overbuilt, yet still competitively priced.
While it was designed primarily as an 18" capacity push saw, it also can function as a "pot hole" saw. By simply equipping this unit with the optional dual cutting kit, it will make parallel cuts exactly 20" wide with 14" diameter blades. This gives the user the opportunity to make clean square 20" cuts in only two passes and is perfect for municipalities, or anyone working on pot hole repair.
Model 1813SS – additional features:
18" single blade capacity or dual side cutting with up to 14" diameter blades.
Honda GX390 series engine rated at 13 HP.
2" wide single serpentine belt for perfect power transmission.
1/4" and 3/8" plate steel "landing gear".
Sealed wheel bearings for ease of maintenance.
Quick release blade guard and dual side cutting capability.
Steel water feed tubes for even blade cooling.
Heavy duty acme thread height adjustment "booted" for continuous ease of movement.
Optional water kit available (shown in picture above).
Quick release pointer.