Gas Engine Equipment: Generac Pressure Washers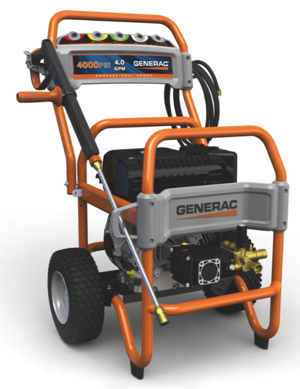 Generac reenters the pressure washer market with an all-new lineup of commercial and residential-grade pressure washers.
"Pressure washers are a perfect fit for Generac," said Peter Chiello, senior product manager, Generac Power Systems. "They represent a natural evolution for us, especially given our expertise in portable generator design, and our previous work on pressure washers. We're excited about our new line of pressure washers because we believe they really address what our customers are looking for—quality, value and ease of use."
Generac conducted extensive research with users to learn what they wanted from pressure washers, and incorporated many new design elements to address those needs. These include a Generac overhead valve (OHV) horizontal-shaft engine on every pressure washer. Many competitive consumer-grade pressure washers use vertical-shaft engines. Generac horizontal-shaft engines make the pumps more accessible by positioning them well above the ground so users don't have to kneel down to make hose connections.
Additionally, Generac OHV engines come standard with low-oil shutdown—a feature that is not available on many competitive engines—to protect and prolong the life of the engine. As for power, each engine is the largest available for pressure washers with these pressure ratings. Both the engine and pump are perfectly balanced over the axle a nd wheels for almost effortless maneuverability, regardless of terrain.
Generac also completely redesigned the spray gun to feature a soft grip that reduces fatigue, and an inverted fulcrum spray trigger that can be pulled and held with only a minimum of effort. Each spray gun also features Quick-Click nozzle tips that are easy to replace without turning the pressure washer off. On Generac's commercial-grade units, the spray gun also comes with an adjustable auxiliary handle for additional comfort and control when cleaning.
Generac commercial-grade pressure washers feature a welded steel frame to protect the engine and pump from the rigors of professional use. Both the residential and commercial-grade units feature tool-free assembly, making it fast and easy to assemble and use the pressure washer out of the box.
Generac is introducing three residential-grade pressure washer models and three commercial-grade pressure washers:
Residential Commercial
2500 PSI @ 2.3 GPM 3000 PSI @ 2.8 GPM
2700 PSI @ 2.3 GPM 3300 PSI @ 3.2 GPM
3000 PSI @ 2.7 GPM 4000 PSI @ 4.0 GPM
The full line of Generac pressure washers will be available for sale in spring 2011.