Gas Engine Equipment: Wacker Neuson wheel loader/snow removal machine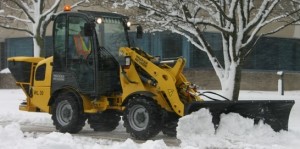 Wacker Neuson's WL 30 articulated wheel loader can easily be transferred from a summer-time "jack-of-all-trades" to a versatile snow removal machine. When outfitted for snow removal, the WL 30 is narrow enough to fit on sidewalks and, when you add one of the many easy to install attachments, snow removal is fast, easy and comfortable.
The WL 30 offers a spacious, heated cab, adjustable seat, plenty of legroom and intuitive controls that all contribute to a comfortable operating experience. The side door allows operators to easily and safely enter and exit the unit.
The WL 30 comes standard with powerful working and driving lights, plus an excellent 360-degree view provides operators with the best possible visibility.
The WL 30 has an on-demand differential lock providing excellent traction and the four-wheel drive with articulated steering offers outstanding maneuverability especially in confined areas. The low overall height also allows the machine to work under sidewalk canopies and other structures.
Snow removal contractors will appreciate the low operating costs, with up to 30% lower fuel consumption compared to skid-steer loaders and less tire wear.
And when winter is over, you still have the ultimate machine for all seasons. Wacker Neuson's compact wheel loaders are quickly becoming the perfect alternative to skid loaders by performing the same tasks faster and more smoothly. The Wacker Neuson line features articulated machines that offer excellent maneuverability and a wide choice of power and performance ratings. The all-wheel steer models are comfortable to operate and provide excellent stability on job sites with steep grades and rough terrain. The full line of attachments provides additional versatility on the job.
For more information, please visit www.wackerneuson-snow.com