Gas Engine Equipment: General Equipment SG24/G Gas-Powered Surface Grinder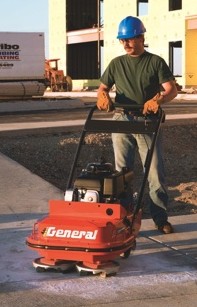 General Equipment Company's SG24/G gasoline powered surface grinder features various grinding systems for breaking up deposits; cleaning concrete, asphalt and tile; producing exposed aggregate slabs; and polishing delicate surfaces. The twin counter-rotating discs can work a 24"x12" area.
Powered by industrial quality 11-horsepower engines, it features dual V-belt/spur gear transmission. The SG24/G has a unitized, welded steel plate frame and extra capacity self-aligning ball bearing units.
The operator can position the adjustable handle for own individual height. Caster wheel height adjusts to accommodate different multi-accessory options.
The SG24/G air cleaner is either cyclone and/or dual element equipped. The counter-rotating discs can be removed so that an operator can attach standard 10" diameter, multi-segmented dry diamond discs for other applications such as removing plastic overlays and epoxy.
Power options include various industrial quality 11-horsepower gasoline engines with optional conversion to LP gas or 2-horsepower electric motor with dual range 115/230 AC voltage.
In business for more than 50 years, General Equipment Company is a family-owned manufacturer of earth augers, ventilation blowers, asphalt cutters and surface preparation equipment. For more information, contact General Equipment Co., 620 Alexander Drive S.W., Owatonna, MN 55060, call 507-451-5510 or 800-533-0524, fax 507-451-5511 or 877-344-4375(DIGGER5), or visit the Web site at www.generalequip.com.