Professional Measurement: Bosch GLL 3-50 Three-Line Laser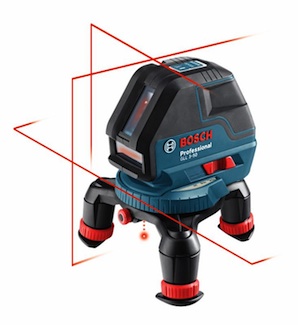 Bosch Measuring Tools announces an innovative new three-line laser designed to tackle level, align, plumb and square applications with one-time setup. The GLL 3-50 offers the ultimate in versatility and ease of use for a variety of professionals, including general contractors, framers, drywallers, remodelers, and window/door installers.
Displaying one horizontal and two vertical lines plus a plumb down point, the GLL 3-50 can be used for a wide array of precise applications, such as leveling doors and windows on multiple walls or installing framing on a commercial jobsite.
It offers 1/8-inch accuracy at 33 feet, and can be combined with an optional LR2 receiver in pulse receiver mode to deliver up to 1/4-inch accuracy up to 165 feet.
The GLL 3-50 comes complete with a versatile mounting base that provides 360 degrees of tool rotation with manual fine adjustment for easy setup.
Adjustable legs allow users to alter the height of the tool in order to see the plumb point down and a locking/unlocking mechanism assures that the tool maintains the set benchmark.
Over-mold housing delivers the durability and drop protection that Bosch users have come to expect, while an IP54 rating provides dust and water resistance amidst jobsite conditions. The tool's smart pendulum system self levels and indicates out-of-level conditions and locks for safe transport when switched off.
Additionally, 1/4-inch and 5/8-inch tripod steel threads provide maximum versatility, allowing the tool to be used with a variety of accessories such as the Bosch WM1 Positioning Device, BS 150 Compact Tripod, BP350 Telescoping Pole System and heavy duty tripods.
The GLL 3-50 is currently available at authorized dealers nationwide and will come complete with the mounting turning base, soft pouch, target, batteries and L-Boxx inlay.