Professional Measurement: Milwaukee 2281-20 and 2282-20 Laser Distance Meters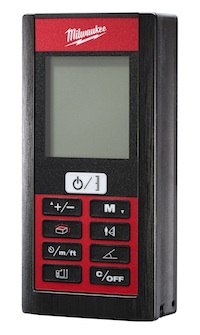 Milwaukee Tool Corporation introduces two new laser distance meters that are designed with a simplified, intuitive interface and universal icons for faster measurements and increased productivity.
"Many users are not familiar with the full functionality and capability of their distance meters because the icons are difficult to understand and the units are not intuitive," says Ernie Racenet, Director of Marketing, Product Management for Milwaukee Tool Corporation. "Featuring a simplified interface, and even packaged with a quick reference guide, this tool not only delivers professional accuracy and functionality, but is the easiest to use in its class."
The new 2281-20 Laser Distance Meter offers five different measurement functions that allow users to calculate length (up to 200ft), area, and volume, as well as measure distance with indirect measurement (Pythagorean), and stake out equal distances such as studs.
In addition to these functions, the 2282-20 Laser Distance Meter has additional features that include increased distance measurement (up to 260ft), a timer delay for increased measurement accuracy and effortless single-person operation, as well as an inclination function that registers the angle of the unit for more accurate measurements and calculations.
Both units offer memory storage, the ability to add/subtract distances and dimensions, and the ability to attach the unit to a tripod for the most accurate measurements. In addition, each unit is designed to fit squarely into corners and lay flat/level when on or against a flat surface for extreme accuracy.
Complete with an easy to read, back-lit display and rugged over-molding, the new Laser Distance Meters confirm Milwaukee's commitment to best-in-class durability and their relentless mission to provide innovative solutions to the end user that will increase productivity in professional, commercial and industrial applications. The new units will be available in February of 2014.
Specifications
2281-20, replaces 2280-20
Max Range with Target Plate: 200 f
Accuracy: ±1/16"
Display: 3 line LCD
Protection Class: IP54
Historical Memory: 10
Threaded Socket for Tripod Mount
Includes (1) 2281-20 Laser Distance Meter, (2) AAA batteries, Carrying Case, Manual and Quick Reference Guide
2282-20
Max Range with Target Plate: 260 ft
Accuracy: ±1/16"
Display: 4 line LCD
Protection Class: IP54
Incline Sensor: ±180°
Historical Memory: 20
Threaded Socked for Tripod Mount
Includes (1) 2282-20 Laser Distance Meter, (2) AAA batteries, Carrying Case, Manual and Quick Reference Guide