Professional Measurement: Empire em81.10 Torpedo Level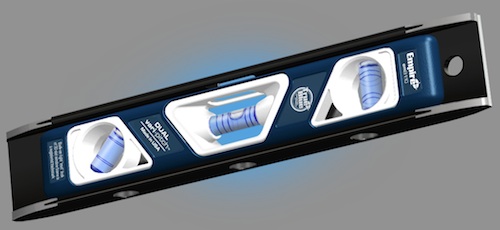 Empire Level has updated its iconic em81.10 10-inch professional torpedo level to include three rare-earth magnets and a dual variable-pitch reading True Blue vial.
The product redesign comes after months of intensive panel and field research and will be released exclusively to the Specialty Tools and Fasteners Distributors Association (STAFDA) retail channel on January 1, 2014.
"The 1/8" and 1/4" dual vari-pitch True Blue vial upgrade really elevates the em81.10, making it the pro's 'pro tool,'" says Jenni Becker, president of Empire Level. "It makes this level a must-have for any builder installing HVAC, masonry, decking, sidewalks, plumbing lines, conduit, flagstone patios… essentially any job where pitch measurements are required to prevent water from pooling."
Based on feedback from the field, Empire's engineers also employed the use of three powerful neodymium rare-earth magnets to give the level the serious holding strength pros requested for jobsites. In addition, new Frameview cover plates showcase the structural integrity of Empire's extruded aluminum frame while allowing for optimal vial readability.
"Our product innovations stem from months of field research and interviews with pros and DIYers alike. Empire knows levels but it's the pros in the field who tell us how they're using our products and what new features they'd like to see," says Becker. "Empire is the number one producers of levels, but we don't rest on our laurels. We're constantly seeking feedback and looking for meaningful ways to innovate."