Measuring

: Bosch GLM 100 C Laser Measure with Bluetooth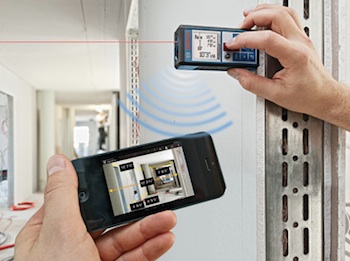 Bosch Measuring Tools combines the precision of laser measures with the convenience of Bluetooth wireless technology with the launch of the GLM 100 C Laser Measure.
Featuring an extended measuring distance, best-in-class memory storage and angle measurement in two axis, this innovative product allows users to make accurate measurements that are instantly transferred to smart devices via the free Bosch Measurement mobile app.
With the help of the mobile app, professionals can easily store and manage measurements without relying on pen and paper, making it fast and easy to calculate material needs and estimate labor costs on-site. Measurements also can be superimposed on jobsite photos, allowing users to quickly create and share detailed quotes containing pictures and comments.
Boasting first-in-its-class remote control functionality, professionals can control the GLM 100 C from smart phones or tablets to make steady measurements along long range, short range targetless measurements or in hard-to-reach spots.

Featuring an extended measuring distance of 330 feet, increased memory storage of up to 50 measurements and angle measurements in two axis, the GLM 100 C offers multiple features for increased versatility. The GLM 100 C is accurate up to 1/16 inch.
The integrated 360-degree tilt sensor provides improved angle functionality, while the large, automatically illuminated flipdisplay makes measurements easy to read and interpret.
The easy-to-use Bosch GLM measure and document mobile app allows users to sketch or overlay measurements on jobsite photos, calculate measurements or assume control of the tool's measuring functions from their smart devices.
For further processing, measurements and photos also can be transferred from smart devices to personal computers (PC) via USB. When connected to a PC, the GLM 100 C's integrated Li-Ion battery conveniently recharges.
The GLM 100 C comes complete with a Li-Ion battery charger, USB cable for data transfer, hand strap and belt pouch. The Bosch GLM measure and document mobile app is available for download and works with Bluetooth Smart Ready devices on Android and iOS operating systems.