Measuring

: Topcon GTS-250 Series Total Stations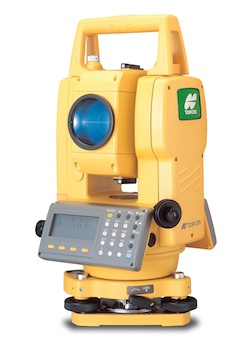 Topcon Positioning Systems (TPS) announces the GTS-250 series of high-performance total stations designed to provide field-ready quality and accuracy with an economical, compact design.
Denny Welch, senior vice president for the TPS Survey Business Unit, said, "These are job site-tested total stations for everyday measuring and positioning applications such as topo and construction layout. They are available in 2- and 5-second models with dual-axis compensation as a standard feature."
The GTS-250 series has a single-prism range of 2000m (6560ft), plus an environmental rating of IP-54 and includes optical plummet, battery, battery charger and two displays as standard equipment. The GTS-250 uses a standard interface cable allowing it to connect to most popular data collectors or a computer. It also features onboard programs and 24,000-point data storage.
Welch said, "This series provides the perfect entry-level value choice, and also provides the construction professional with a dedicated layout solution. Use the on-board software to layout points in the field, confident that with Topcon, you'll be right on target. Or use any of Topcon's field controllers running MAGNET software tailored to more complex construction projects."