Measuring

: General Tools Deep Sensing Moisture Meter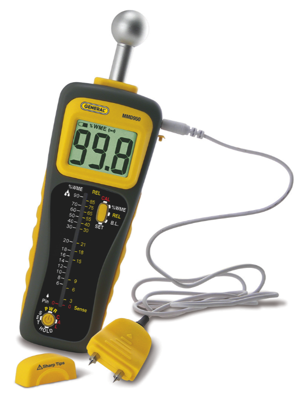 Ideal for contractors, woodworkers and homeowners, the new Pin/Pinless Deep Sensing Moisture Meter with Spherical Sensor and Remote Probe (MMD950) from General Tools & Instruments offers superior design and functionality. Whether measuring the moisture content of wood, masonry or other construction materials, this precision specialty instrument boasts several advantages over other moisture meters on the market.
The most common applications for the Deep Sensing Moisture Meter are: detecting moisture/water damage under tiling, locating moisture in sub-floors beneath carpeting and wood flooring, and checking moisture in masonry.
Depending on the area or surface to be measured, the instrument affords the flexibility to choose from one of two measurement modes. Pin mode uses replaceable pins at the end of a 46 in. cable; Pinless mode uses an integral spherical sensor. These different modes enable users to measure moisture in corners, hard-to-reach areas, narrow spaces and uneven surfaces.
The spherical sensor measures the average moisture level up to a depth of 4 in., and its small contact area provides superb repeatability. The meter works in any position, can accommodate a wide viewing angle and, with its strong RF sensor, can detect moisture where other meters fail (e.g., masonry).
The auto-calibrating Deep Sensing Moisture Meter provides readings in two modes—a jumbo LCD and a 40-dot tri-color LED bar graph. The unit can measure either WME (wood moisture equivalent) or REL (relative to a known moisture level) over a range of 0.0 to 99.9% with an accuracy of +/-5% of reading.
A Data-Hold function allows users to store multiple readings, while a moisture level alarm audibly alerts users to readings outside a designated set point. Users can also control the auto power-off time and backlight function. The meter comes in a protective hard carrying case along with a remote probe, one 9-Volt battery and a user's manual.