CAT RP Series RP12000 E Portable Generator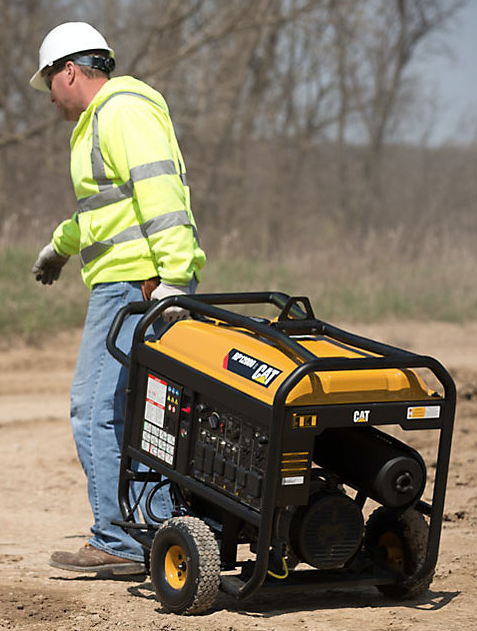 Caterpillar is expanding the Cat RP Series portable generators line with the introduction of the RP12000 E. The new generator fills out the top of the series, delivering 12kW of running power and new features to meet the specific needs of the "pro-sumer" – emergency home back-up, DIY enthusiasts and contractors.
The RP Series initially launched in North America in September 2016 with four standard models, ranging from 3.6 to 7.5 kW. The series is the first prime product designed, engineered and supported by Caterpillar specifically for consumers.
The generators are now available in the US and Canada via over 550 Cat Home & Outdoor Power sales locations, which include regional and local retailers, traditional Cat dealers and online retailers (currently Electric Generators Direct and Amazon).
Like the other products in the series, the RP12000 E was designed by Caterpillar engineering teams based in Illinois and the United Kingdom. The team focused on delivering the key design elements customers value most – power output and quality, ease of use, run-time, low noise, overall value and durability – in addition to a collection of premium features to set it apart from other generators in its class.
Long Lasting Power
The RP12000 E has a new, larger frame to house a larger, powerful 670cc V-Twin engine. The engine has a fully pressurized oil system and delivers up to 15kW of surge power, making it suitable for powering more equipment and heavy loads. The all-copper generator delivers a clean power with less than 5 percent total harmonic distortion, which is suitable for sensitive electronics and tools.
Engineers also included a low-idle mode option, which optimizes fuel consumption and noise levels and reduces engine wear. With runtimes over 11 hours (at 50% load), customers will be able to work an entire day without needing to refuel. In addition to the low idle mode, engineers designed a custom muffler and positioned the extra-large steel fuel tank on top of the engine (versus the side like most competitive models) to further minimize noise levels. The design also prevents damage from vibration.
Ease of Use
Like other models in the series, the RP12000 E was designed for simple, safe, fuss-free operation. It includes a lighted, single side-operators station, enabling the user to start and operate the generator without having to walk around or move it. The panel houses 9 receptacles including a 50A 240V outlet, which is unique to this model and required for many heavy-duty tools.
The RP12000 E also includes a removable lifting eye and handle, and is designed with a balanced center of gravity, which test users noted makes it surprisingly easy to push and pull around. The whole unit is deftly packed into a compact, visually appealing frame – easy to store and a show piece on any showroom floor.
Durability
The RP 12000 E is constructed of solid 32mm steel, which is treated and coated to prevent corrosion and rust. The large metal wheels include integrated bearings for long life and high-quality solid rubber tires. The RP12000 E comes with a 2-year warranty (extended to 3 years when the product is registered), which includes parts and service for the entire warranty term, and all RP Series products are backed by Caterpillar's 24/7 customer support.
For more information on the RP Series, visit www.cat.com/homeandoutdoorpower