Generac XC6500E Professional Series Portable Generator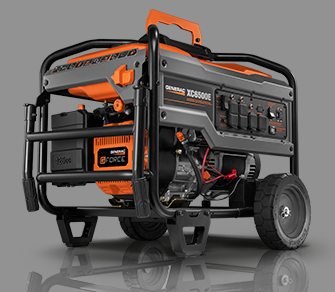 XC Professional Series Portable Generators from Generac are engineered specifically for contractors and construction sites. Featuring Generac's G-Force engine - the only pressure-lubed engine designed exclusively for generator use, providing reliable and durable best-in-class power on any jobsite.
The XC6500E, featuring electric start, produces 6,500 running watts. It has an 8.5-gallon capacity fuel tank with a fuel gauge. It delivers 14 hours of run time at 50% load. All outlets are GFCI protected and include:
(2) 120V 20A 5-20R Duplex GFCI Protected Outlets
(1) 120V 30A L5-30R Twist Lock
(1) 120/240V 30A L14-30R Twist Lock
Generac's TruePower technology provides clean, smooth operation of sensitive electronics, tools and appliances and Idle Control reduces noises and conserves fuel for extended run-times.
Professional Features include:
X FRAME - FULLY WRAPPED, HEAVY DUTY 12 GAUGE STEEL TUBE — Provides rugged durability and protects the generator and fuel tank from damage.
STEEL LIFTING POCKET — Designed for easier lifting and transportation on jobsites by crane or forklift.
IMPACT RESISTANT FUEL TANK DESIGN — Recessed tank edges reduce damage when transported by forklift.
FULL PANEL GFCI PROTECTION — OSHA compliant with covered outlets to protect from the elements.
EASY ACCESS TO ALL ROUTINE MAINTENANCE AREAS — Including filters and spark plugs; no need to remove fuel tank or side panels.
ENGRAVING PLATE — Allows unit to be tagged / cataloged for use in contractor and rental fleets.
FOLD-DOWN LOCKING HANDLES — Features one-handed locking mechanism for easy storage.
GENERAC G-FORCE ENGINE — Features Best- in-Class power with full pressure lubrication and is optimized for generator use.
WELDED STEEL FEET — Reinforced for superior durability.
PROTECTED AXLE — Integrated into frame, shields from impact during transport.
NEVER FLAT WHEELS WITH STEEL HUBS — Makes movement around the jobsite
easy and efficient.
The XC6500E weighs 243 pounds and carries a 2-year commercial use warranty.