Air Tools: Chicago Pneumatic Air Flex swivel connectors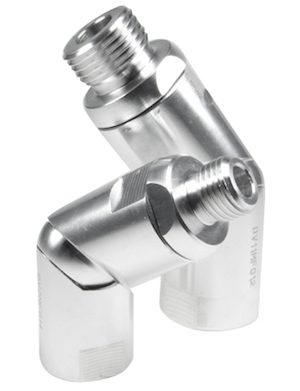 Chicago Pneumatic has launched a new range of air line accessories for its handheld pneumatic tools. The new Air Flex swivel connectors, which connect the air hose to the base of the tool, make rigid hoses more flexible and multi-directional.
The use of the Air Flex swivel connector helps to improve MRO professionals' work ergonomics, while providing users with a 360° rotational capacity to increase productivity and ease of use in difficult to reach places.
The Air Flex swivel connector range is available in three sizes; 1/4" (with or without a cover), 3/8" and a 1/2" and is capable of withstanding air pressure from 25 cfm up to 74cfm (12 l/s up to 35 l/s).
The additional flexibility that the new connectors provide ensures that the air hose does not become twisted and remains in the ideal working position, helping to reduce the risk of tendinitis for the user.
"Our new Air Flex range will help to enhance the performance of any air tools, across a range of industries," says Yann Pasco, product marketing manager, Chicago Pneumatic Tools. "The flexibility that the new connectors offer makes repair jobs in hard to reach places as easy as when working in an open space. Whether bolting, scaling, screwing or grinding, the new Air Flex range allows users greater accessibility while also ensuring the continued productivity and comfort of those behind the tools."
In addition, the connector reduces wear to hoses, as they are not being twisted, thereby providing reliable operation over a long service life. The new Air Flex range is ideal for handheld pneumatic tools such as impact wrenches, ratchet wrenches, screwdrivers, grinders and drills.
For more information on the new Air Flex range visit: www.cp.com/en/whatwedo/powertools/accessories/airline.aspx.