Air Tools: Cleco 1660 and 2260 Angle Grinders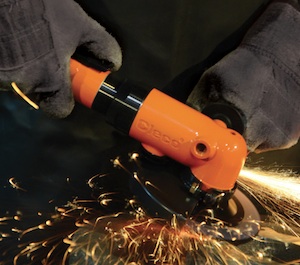 Cleco Tools announces the launch of its new 1660 and 2260 Angle Grinder product series. Engineered to provide maximum material removal in heavy-duty industrial applications, Cleco's right angle grinders deliver optimal power and efficiency while maintaining durability and user ergonomics.
Cleco's angle grinders feature high quality components to ensure superior performance and reliability. Requiring less maintenance than traditional angle grinders, Cleco's angle grinders minimize downtime, enhancing productivity and maximizing users' bottom line.
With multiple handle positions and a unique ergonomic design, these angle grinders enable more efficient usage while ensuring versatile operation for diverse applications.
"For industrial applications requiring maximum material removal, our new Cleco angle grinders are the solution," said Renato Dell'Osso, Global Product Manager. "With a rugged design and unmatched productivity, Cleco angle grinders withstand even the harshest environments while providing superior material removal capabilities."
Key features of the new 1660 and 2260 angle grinders include:
Streamlined angle head and all metal housing for ultimate ruggedness
Available in powerful 1.6HP and 2.2HP motor options engineered for maximum sustained power
Dual auxiliary handle positions, reversible throttle handle and interchangeable guards allow for versatility to fit any application
"Weight forward" motor architecture provide improved ergonomics
Standard safety lock throttle lever, industrial governor and Compressed Air and Gas Institute (CAGI) compliant guards ensure grinders meet the highest safety standards
Cleco angle grinders are compatible with industry standard depressed center wheel and cut-off abrasives, including: 4 in. (100mm), 4.5 in. (115mm), 5 in. (125mm), 6 in. (150mm) and 7 in. (180mm)