Chicago Pneumatic CP7736 Series Impact Wrenches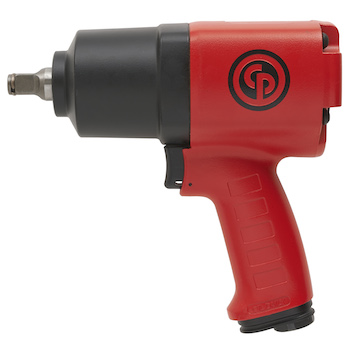 Chicago Pneumatic has launched a new series of CP7736 ½" metal impact wrenches, to deliver more durability, power and user comfort for tire changing or general mechanic applications.
The compact CP7736 offers 670ft-lbs (900Nm) of torque, which is 20 per cent more than its predecessor, and has the best price performance ratio of its class on the market. As such, vehicle service professionals can operate more efficiently and increase their productivity.
There are two tools available in the range – the CP7736 ½" impact wrench and the CP7736-2 which includes a 2" long anvil attachment. The impact wrench is highly durable, with a new twin hammer mechanism providing a working torque of 51-568 ft-lbs (69-770 Nm) and a maximum torque of 670 ft-lbs (900 Nm). It features three power settings in forward and full power in reverse, which provides the mechanic with greater control in all applications. In addition, it is robust with a steel motor and aluminum housing to provide excellent performance and withstand the tough workshop environment.
The wrench is ergonomic and has been designed for user comfort. The curved handle is placed under the centre of inertia to ensure the tool is well balanced to reduce the chance for wrist strain or long term damage to the user. In addition, a full teasing trigger gives the operator easy, controlled operation.
"We are redesigning our metal impact wrench line to provide the excellent ergonomics, high quality and reliable performance that our users have come to expect from our brand nowadays," says Luis Clement, Chicago Pneumatic Tools Vice-president. "These new versions have seen an increase in the power offered to the user, they are more comfortable and still customers can enjoy our new CP7736 series at a very cost effective price."
With a range of additional accessories including impact socket sets and filter regulators, the new impact wrenches provide users with a versatile and durable tool for a range of maintenance jobs. The CP7736 series further compliments Chicago Pneumatic's vast range of vehicle service tools and workshop equipment, including its brand new cordless tools range.
For more information and distributor locations, please visit: www.cp.com