Air Tools: Cleco Industrial Air Impact Wrenches
Cleco has introduced its new family of industrial air impact wrenches, engineered specifically for all-day use in applications ranging from general assembly and plant maintenance to shipbuilding and heavy equipment manufacturing.
The new product family is available in three series:
CWC Premium Composite Series
CWM Premium Metal Series
CV Value-featured Composite Series
Each model offers excellent durability, industry-leading torque performance and world-class ergonomics.
"Our new industrial air impact wrenches have been completely redesigned through voice-of-customer and tested extensively in challenging environments and heavy industries," says Jackson Wang, Global Product Manager, Apex Tool Group. "We also focused on providing the most well-defined and streamlined product offering, making it easier for customers to identify and implement the perfect tool for their application."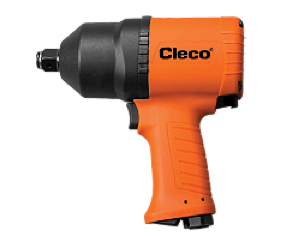 The CWC Premium Composite Series delivers the optimal combination of productivity, ergonomics and durability.
Available in 1/4-, 3/8-, 1/2- and 3/4-inch drive sizes, the CWC Series combines user-preferred features such as push-button forward and reverse with fast power delivery to maximize productivity.
A durable twin hammer mechanism and industrial grade bearings further ensure that the CWC Series can provide lasting performance.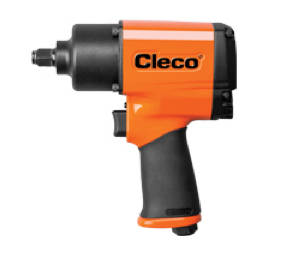 The CWM Premium Metal Series is engineered for heavy-duty applications in the most demanding environments.
Rugged all-metal construction has been tested extensively against dropping, dragging, and abuse, while a large reverse lever makes tool adjustments easy, even with gloves on.
Available in 3/8-, 1/2-, and 3/4-inch drive sizes, the CWM Series delivers the most power of the Cleco impact wrench family and tackles the toughest applications.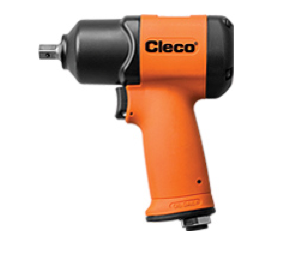 The CV Value Composite Series is ideal for general industrial applications, repair, and maintenance. Lightweight, balanced, and comfortable for the operators, the CV series can be easily integrated in an all-day assembly environment.
Available in 3/8-, 1/2-, 3/4- and 1-inch drive sizes, the CV series is an excellent value in the industrial impact wrench market.
Additional product highlights include:
Powerful twin hammer impacting mechanism featuring triple cycle heat treatment to ensure product performance and longevity.
Numerous combinations of socket retention, anvil size, feature, and noise-reduction options to meet the needs of varying users and applications.
Variable-speed trigger provides the operator with precise speed control.
Ergonomically designed handles protect the operator against vibration and temperature, and are tested to withstand industrial chemicals.
Modular muffler is included in the box for CWC and CV Series products for added noise reduction in the work environment.
For more information on Cleco products and the new line of air impact wrenches, contact your local Apex Power Tools representative at: www.ApexPowerTools.com
Phone: 800-845 5629