Air Tools: CS Unitec Trelawny Floor Planer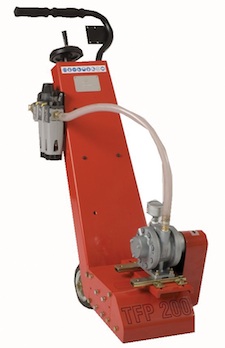 CS Unitec's Trelawny Floor Planer tackles the most demanding surface preparation and material removal applications. The TFP 200 is ideal for the removal of coatings and corrosion from concrete and steel surfaces to prepare for recoating.
In addition, this walk-behind planer roughens concrete and produces a keyed or grooved profile on concrete for waterproofing and non-slip surface applications.
The TFP 200 has an 8" cutting width and 1/8" max. cutting depth per pass. Depth control enables removal of surface materials without damaging the substrate, maximizing performance and extending cutter life.
Other features include a fully adjustable handlebar, integrated vacuum connection and hold-to-run handle.
Three models are available with different motors to meet the needs of the working environment.
The 3.5 HP, air-powered unit, model 320.2012T, consumes 165 CFM of air at 90 PSI.
Model 320.2000T is powered by a 5.5 HP Honda GX160 gas motor.
The electric-powered model 320.2004T, features a 3HP, 220V-240V motor.