Other Products: Rockler Hidden Arm Shutter System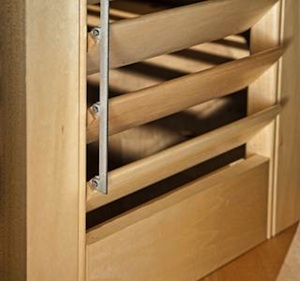 Rockler Woodworking and Hardware has just expanded its doit-yourself Shutter System to include a hidden control arm option. The Hidden Control Arm Jig Kit is designed to construct shutters with the control arm (which is used to open and close the shutters) located on the back side of the shutter panel so it is hidden from view. The result is clean looking shutters with a discreet adjustment mechanism.
The Hidden Control Arm Jig Kit contains an acrylic template with an extruded aluminum guide fence
and built-in guide holes to indicate the positions to be drilled on the louver. The appropriate self-centering
drill bit used to drill the holes as well as detailed instructions are also included in the kit.
The control arm is then attached to the shutter louvers with Stainless Steel Nails (45400, sold separately)
to complete the hidden control arm assembly.
The Hidden Control Arm Jig Kit (45143) retails for $25.99. It is used in conjunction with the Hidden
Control Arm (21/2", 49991 or 31/2", 44880) and either the 31/2" Louver Template Set (47674) or the 21/2"
Louver Template Set (44342), all sold separately and required to build shutters.
For store locations or a free catalog, please visit www.rockler.com or call 1-877-ROCKLER.