Other Products: BORA Tools Saw Plate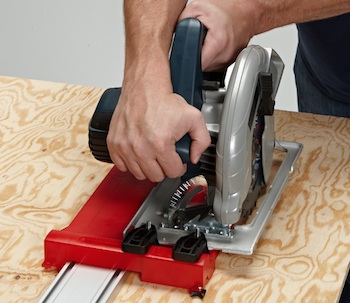 Affinity Tool Works, LLC., a privately-owned global tool company providing professional and consumer tools under the BORA, Portamate and HTC brands, launches the BORA Saw Plate and accompanying Rip Guide Handle (Available April 2015).
The BORA Saw Plate works in conjunction with most clamping straight edges or independently when combined with the Rip Guide Handle to make a circular saw guide. Paired together with almost any circular saw, BORA's Saw Plate and Rip Guide ensure consistent cuts with uniform track saw-like precision.
Features of the BORA Saw Plate are:
Adjusts to fit most circular saws
Works with left or right-handed circular saws
Saw connects to plate at 3 points for added stability
Blade indicator lines up directly with your blade insuring you can see where your cut will go
Designed to work with the BORA WTX Clamp Edge or any straight edge guide up to 3 1/2" wide
"From a layman to a professional, the BORA Saw Plate allows you to rip through materials with exact and perfectly straight cuts every time," said Todd Gluski, Brand Manager for Affinity Tool Works. "When used together with the Bora WTX Clamp Edge, you gain a tremendous advantage in efficiency and precession of your cuts"
To view a demonstration of the BORA Saw Plate, please visit www.boratool.com/bora-saw-guide.
The BORA Saw Plate retails for $29.00, the Rip Guide Handle retails for $20.00, both are manufactured by Affinity Tool Works, LLC, based in Troy, Mich. For a complete list of dealers and retailers, please visit www.affinitytool.com or call 248-588-0395.