Other Products: Forney expands welding line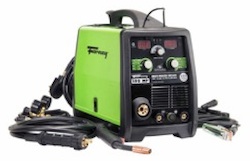 Forney Industries recently announced the expansion of its welding line. For more than 80 years, Forney Industries of Fort Collins, CO has held a leadership position in the welding industry with its comprehensive line of welders. The refreshed and expanded line is designed with the welding enthusiasts in mind. This expansion will make the line that much more comprehensive and valuable to the customer.
"Forney Industries has taken a thorough look at what our customer needs to make him/her successful in their trade," said Jason Mahugh, Senior Manager Welding Products and Engineering. "Our customers wanted specific improvements to our current selection and a deeper variety of what we currently offer. Now, we have an impressive and expanded line of welders that complete all categories, for every kind of work and hobby."
Produced and available in the distinct Forney green color, six new welders have been added in the Forney lineup: 140 MP, 190 MP (shown), 140 MIG, 190 MIG, 210 MIG, and the 270 MIG. Forney Industries began shipping the 210 MIG and 270 MIG welders in January 2015 and they have been well received by consumers. These machines are designed with increased output for welding a variety of thicker, larger materials.
Available March 2015, are the MP "Multi Process" welders and the 140 MIG and 190 MIG welders. The MP welders offer the welding enthusiast the ability to MIG, Stick or TIG weld in a single machine and the 140 MIG and 190 MIG are high quality welders at a fair price.
"As standard for us at Forney, we took the demands of our customers very seriously," added Mahugh. "We now not only offer the new welders, but we have added a significant amount of value and features to the line that we currently offer."
Refreshing the existing line, Forney Industries has added a number of improvements that make the tasks of welding for the do-it-yourselfer or auto enthusiast much easier. Since most MIG welding performance issues stem from poor wire feeding, Forney has upgraded its line to include a cast aluminum wire-drive system, dual geared idler and drive roll with de-spooler as well as expanded cabinet size.
Additional value has been added by increasing the working area with a longer power cord and longer MIG gun and adding in a torch wrap to organize cables.
"Due to our customer's feedback, we are now packing more value into our existing line," said Steve Anderson, President and CEO. "We are confident that the machines will not only perform up to our high standards, but will also make the use of a welder in a standard garage much easier."
The customer's reaction to the 210 MIG and 270 MIG speaks volumes that Forney is now offering the market what it needs.
"Quite frankly, we were impressed that Forney's top brass personally met with some of us in the industry to ask us what we, and our customers, needed before producing and offering the new products," said Pat Carter, owner of Carter Welding and Supply Inc., in Fort Wayne Indiana. "The 210 and 270 machines are so impressive we sold the first two the day we put them on the floor and we are expecting to sell a lot more. They are value priced, extremely high quality and manufactured in Italy. They are exactly what our customer needs – particularly those in the light industrial, farm & ranch, motor-sport enthusiast and home owner markets."
Forney Industries is one of America's oldest family-owned, welding and metal-working-product companies. Founded in 1932, the company began with the invention of the instant soldering iron and introduced the first publicly available arc welder in the 1940's. Today, the company offers nearly 6,000 products serving the automotive, hardware, farm & ranch and do-it-yourself markets. Headquartered in Fort Collins, CO, Forney Industries delivers products to all 50 states through its extensive customer-service network. Forney Industries is committed to providing the best product mix and most personal support services available today. learn more at www.forneyind.com.